Dave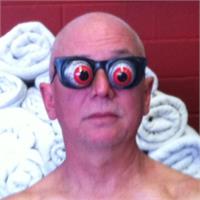 Dave Schutz was born in Long Beach, California and raised in San Diego. Dave has worked as chef and restaurant owner. Today, when Dave isn't in the hot room teaching class, he works at his family business down in La Jolla Shores. The Cheese Shop at the Shores offers great sandwiches and oatmeal cookies so amazing that Dave ships them all over the U.S.! Dave has been practicing yoga for 12 years, was certified in 1999, and has been teaching in San Diego for over 10 years. Bikram says that it takes 10 years for one to become a true Bikram Yoga Teacher and Dave is there! Dave's great personality, sense of humor, and way with words makes those 90 minutes in the hot room seem like a piece of cake. Dave's favorite posture is which ever one we are currently doing.
Dave instructs the following:
Conducted in a heated room, hot yoga detoxifies the body through perspiration, tones the muscles and flushes every cell and organ in the body. Whatever your age, injury, or prior yoga experience (if any at all), this yoga will benefit your body and mind in ways you never imagined possible! This is a beginning-level class. This class is heated to 105 degrees and is 60 minutes.