Anthony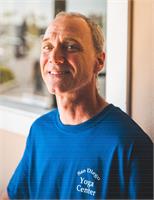 I took my first Bikram yoga class in April of 2001 at the Old Town studio here in San Diego. I loved it and hated it. I STILL FEEL THE SAME WAY! I continued to practice there and other San Diego schools for the next two years. I was involved in long distance running know as endurance races (Including 100 mile races). Crazy- I know! The yoga helped me in all ways including preventing injuries. I moved to Hawaii to train and race in one of the toughest races in the world because of the high elevation gain and the terrain. Amazingly I managed to take third place a couple of times. I could not have done it without the yoga.
My path took me to the Bikram teacher training in Los Angeles, where I was certified in 2005. I then taught in Hawaii until March 2008 until returning to San Diego and becoming director of this school. While living and teaching in Hawaii, the training site was moved there for two sessions and I regularly attended class. The teacher training brings in a lot of senior teachers and the best teachers from around the world and I did have the good fortune and opportunity to take advantage of that. I have had a lot of excellent teachers. I represented Hawaii in 2007 and 2008, and Southern CA in 2009 in the national championships. I'm a person that never gives up. Sometimes I want to but I don't. The Bikram yoga will teach you to always think positive and never allow negativity to enter your mind. With this simple principle, how could you possibly fall short of your capabilities and full potential. Whatever you set your mind on it can become reality because you have learned the art of concentration and you harness the power of focusing your mind. THIS IS THE YOGA. If I can do this, you can do this. When I started I was not good but I kept trying time and time again. Every time I went to class I fell completely apart within minutes. I could not comprehend how I could run 100 miles without stopping but couldn't do 5 minutes of Bikram Yoga without falling apart and practically dying! I got yelled at a lot. My balance was terrible and I was the guy that was hopping all over the room trying to stand still and lock my knee. I was the one that was hyperventilating all the time and crawling to the door to get out and get a breath of fresh air. Somehow I worked past all of that. I knew who was good and I put myself as close to them as possible and watched them and learned to do as they did. I knew it was going to take a lot of work and time. I'm still at it.
My responsibilities are much greater these days. I have to bring you all the knowledge that bikram has given me and all the teachers I have worked with and under. I have to give you a good place to practice this very important thing, this way of life, this yoga. I always strive for the best, and I will help you to achieve the same for yourself. Work hard my friends. Namaste
Anthony instructs the following:
Conducted in a heated room, hot yoga detoxifies the body through perspiration, tones the muscles and flushes every cell and organ in the body. Whatever your age, injury, or prior yoga experience (if any at all), this yoga will benefit your body and mind in ways you never imagined possible! This is a beginning-level class. This class is heated to 105 degrees and is 60 minutes.




The advanced class is practiced in a heated room. This class builds upon the original 26 posture series with additional advanced poses. It is approximately 2 hours in length.

NOTE: Students wishing to attend advanced classes must have a regular practice in beginning and intermediate classes at San Diego Yoga Center. If you would like to join this class, please discuss with a studio owner/director before attending.