Nelia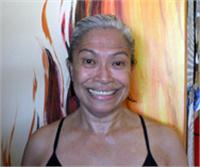 Nelia has dabbled in pilates, tai chi and yoga practicing at home and with friends using books, videos and private lessons during the many years that she worked full time as a project engineer and contracts manager in California's Silicon valley. During those years her main exercise had been swimming until she discovered Bikram yoga 3 years ago. Immediately her focus shifted to yoga, such that she scheduled her activities to make sure she got at least 4 classes a week, and strived to become very proficient. She found Bikram yoga very challenging and satisfying in terms of rigor, precision and health benefits. After a year of regular practice and enjoying the benefits of being fit, strong and flexible with automatic weight and cholesterol control through Bikram yoga, Nelia and her daughter Amanda started talking about going to Teacher Training as a way of taking the practice to the next level. Nelia (and Amanda too) completed Teacher Training and got certified in the Spring of 2009. Nelia also plans to bring Bikram yoga to the small town of Salmon in Idaho where she and her husband has a second home so she can happily share her practice with her hiking buddies in Salmon.
Nelia has been practicing Yang-style Tai Chi for over 10 years. She trained one-on-one from 2002 to 2007 with Howard Tseng, a certified Tai Chi master in Taiwan and in California (San Francisco Bay Area). She was a teaching assistant to Howard for about a year in 2007 and 2008 before moving to San Diego. Nelia has been teaching Tai Chi in Salmon, Idaho since 2010.
Nelia instructs the following:
Conducted in a heated room, hot yoga detoxifies the body through perspiration, tones the muscles and flushes every cell and organ in the body. Whatever your age, injury, or prior yoga experience (if any at all), this yoga will benefit your body and mind in ways you never imagined possible! This is a beginning-level class. Class is heated to 105 degrees and is 90 minutes.