Charlene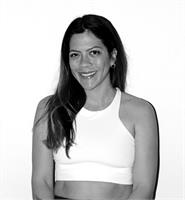 In 2005 I took my first Bikram class here in San Diego. There was an introductory special of 10 days of yoga- I WENT EVERY SINGLE DAY. After taking my first class I was in love with the way I felt inside and out and how challenging class was! I knew that this yoga was something special. For the next 4 years or so I was in and out of the hot room then finally had a more consistent practice after moving to San Diego from NYC in 2009. I earned a degree in Marketing in New York City and fiddled with that for a few years while still incorporating yoga in my life. Then, with the support of family and my yoga community, I completed my teacher training in Los Angeles and was certified in the Fall of 2011. I was so worried if I was doing the right thing or not but after teaching my first class I knew I was doing exactly what I was supposed to be doing, sharing the gift of yoga with others.
After starting a family in 2014 my teaching took a backseat but I never left it, it's part of who I am. In September 2016 I joined Anthony as co-owner of the studio and I couldn't be more thrilled! I get to do what I love and spend time with my family. Sharing yoga with others makes my heart full. If you're ever second guessing trying out yoga just remember- you have nothing to lose and only more chances to improve your life. Take a leap of faith and see where it brings you.
Charlene instructs the following:
Conducted in a heated room, hot yoga detoxifies the body through perspiration, tones the muscles and flushes every cell and organ in the body. Whatever your age, injury, or prior yoga experience (if any at all), this yoga will benefit your body and mind in ways you never imagined possible! This is a beginning-level class. This class is heated to 105 degrees and is 60 minutes.