Tracy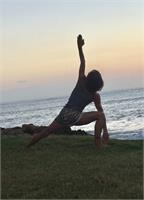 I first heard about hot yoga from a friend and thought, "Really? It's a stretching class-will my heart pound? Will it challenge me?"
I took my first class in September of 2007. I remember lying on my mat after that first class (a bit nauseous and wiped out) and thinking "YES" to my earlier reservations about yoga. It was both challenging and a workout. I woke up the next morning and felt EVERY muscle.
I made myself go back and take class a week later and managed one class a week for almost two years; it was a love/hate relationship. I loved how my body felt but needed the six days in between to mentally and physically prepare myself to go back to class again.
Over the next three years, I finally made my goal to do five classes a week. I am addicted! I love yoga and the many benefits that come with it both physically and mentally.
It was not long after I began a regular practice that I thought about becoming a teacher. I have always had the passion to become a teacher, but with a family at home and a time consuming job, there were just not enough hours in the day to take on more work. Therefore, when my son and daughter left for college, the timing was right to take the next step and begin training. Thank you Anthony!
Tracy is currently not instructing any classes.