Corrie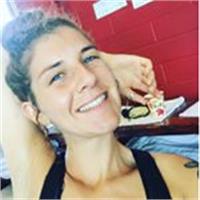 I'm a born and raised San Diego native. I had taken yoga classes from time to time, none of which really kept my interest until I tried my first hot class. I immediately loved everything about it, the heat, the postures, the challenge. As my body started quickly changing, my flexibility improved and I could focus my mind better, I become more and more passionate about developing my practice. It's been 7 years and I still hold the same passion for my practice. Yoga is the savior I never knew I needed and I want to share the blessing of yoga as much as I possibly can during this life..
Corrie instructs the following:
Conducted in a heated room, hot yoga detoxifies the body through perspiration, tones the muscles and flushes every cell and organ in the body. Whatever your age, injury, or prior yoga experience (if any at all), this yoga will benefit your body and mind in ways you never imagined possible! This is a beginning-level class. This class is heated to 105 degrees and is 60 minutes.




Special length class taught only during the holidays. This class is very similar to the 1-Hour Beginning Hot Yoga class, but allows more time to go deeper into the postures. The class is heated to 105 degrees and is 75 minutes.