Shane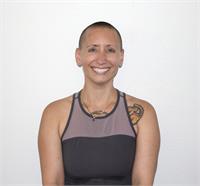 There is nothing that pushes me to be a better person than hot yoga. I began practicing in October of 2011, excited but very shy and extremely scared of the unknowns of hot yoga. I had only taken one yoga class before, at Grossmont College, but it didn't motivate me. Throughout my first hot yoga class, I couldn't stop grinning. Ever since then, I have improved emotionally, physically, mentally. I am a stronger person all around because of this yoga and I look forward to helping people discover what they're capable of.
Shane instructs the following:
Conducted in a heated room, hot yoga detoxifies the body through perspiration, tones the muscles and flushes every cell and organ in the body. Whatever your age, injury, or prior yoga experience (if any at all), this yoga will benefit your body and mind in ways you never imagined possible! This is a beginning-level class. Class is heated to 105 degrees and is 90 minutes.