Candace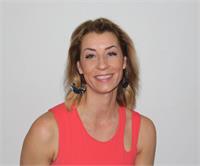 Candace found yoga in 2009, when looking for an alternative means of exercise after running avidly for over 20 years. She has been practicing Vinyasa regularly ever since. Yoga has become more than just a form of exercise – it's a lifestyle that has changed her overall perspective and outlook, which has allowed her to become more present and grounded in all aspects of her life.
In 2014, she realized she wanted to delve more deeply into her practice and share the gift of yoga with others by teaching. She completed her 200-hour Yoga Alliance certification in 2014 and has volunteered her time ever since, teaching Vinyasa yoga to benefit charities and for the fitness and wellness program at her workplace. Always a student of yoga, she completed advanced teacher training in 2016, while continuing to develop her personal practice.
Her aim as a teacher is to create a grounding space for her students, where they can tune in and turn inward – cultivating a deep body awareness while experiencing a vigorous, yet accessible physical workout. In her classes, her students experience a steady Vinyasa flow, ignited by carefully chosen music and a focused theme.
Candace is a Texas native and a Navy veteran; she now works as a civil servant and has over 25 years of combined service to the Department of the Navy. She moved to San Diego in 1993 and has lived here ever since. She enjoys spending time outdoors with her husband, Tim, and their two rescue dogs, Utah and Lulu.
Candace instructs the following:
Vinyasa Flow class but in a warm room. Not as hot as our heated yoga, but warmer than our Vinyasa classes. Room will be heated to about 80 degrees. Be prepared to sweat! This class is good for all levels.