Fiorella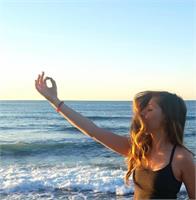 Two years ago, Fiorella was only trying to fill a physical education credit in college. Today, she is a 200 hour and Restorative yoga certified instructor who incorporates healing elements into each class, whether it is Reiki (energy healing / chakra work), aromatherapy, or gentle adjustments. Fiorella thrives to provide a safe, non judgement space for students to go within, be inspired, and Be Love.
Fiorella instructs the following:
In vinyasa yoga, each movement is synchronized to a breath. The breath is given primacy, acting as an anchor as you move from one pose to the next. The continual movements, from one pose to another, gives you an added cardiovascular benefit. This class is performed in a non-heated room and is typically an hour long. All levels are encouraged.




Deep Stretch/Slow Flow is about slowing down and opening the body through stretching. During these long holds, your muscles relax deeply. This class is very mellow, making it a good complement to more active practices and an excellent antidote to stress. These classes are an hour long and good for all levels.




Yin Yoga stretches connective tissue around the joints promoting flexibility in the hips, knees, pelvis, and spine. Poses are held for 3-5 minutes, accessing deeper layers of fascia. This is a great class to compliment other forms of exercise and yoga. Yin is a great class to help you wind down at the end of the day, is practiced in a non heated room and is 60 minutes in length.